In general, most users usually do a maintenance on their email accounts in order to get rid of all that old or unimportant information >. To do this, are removed all those emails that are not necessary to have them in either inbox or inbox .
However, on many occasions when this maintenance process is carried out, is deleted by deleting some important messages without realizing it, or in that case some elements are deleted and over time we begin to need them.
In the event that something similar happens to you, you can start to recover those deleted items from your Yahoo Mail account through some methods that we will be teaching you below.
Is it possible to recover an e-mail message that you deleted years ago from Yahoo Mail?
In the case of Yahoo Mail, emails are not automatically deleted, which becomes a great advantage for most of its users. But, on many occasions you can end up deleting some emails by mistake or need them after a while of their removal , it is here that it becomes a problem for the person to be able to recover said information.
But, in this case, we can try to restore these elements to your inbox or output through some methods that we can put into practice, taking into account that it is not always the same It can be done successfully. Therefore, it is possible to save those items already deleted for years in your Yahoo account.
Steps to recover deleted emails from your Yahoo inbox
If you get to lose some email either because you have unconsciously deleted it or after a while you are needing it, then here we will explain what are the possible solutions to be able to recover it. For this there are some methods that we can carry out and which we teach you below:
From the trash
The first method we present to you is to review the trash folder . Usually, every time we delete an item from the inbox or outbox, it is usually sent to the Yahoo Mail Trash or In many occasions it is sent to it by some type of error or filter and we don't realize it. Therefore, it is best to look for it in that folder.
For this we perform the following steps:
To start, you must enter your email address.
When you are inside the platform, go to the "Trash" folder.
There you will see a list of all deleted emails , choose the one you want to recover.
Now select the option of "Move" and click on the "Inbox" option.
With EaseUS Data Recovery Wizard
Another way we can find to recover deleted messages is through recovery software, in this case it is EaseUS Data Recovery Wizard. It will allow you to restore all those emails that have been deleted for years so that you can have all the information stored there again.
Using this type of software will give you certain benefits , since you can have a current interface and easy to execute , a recovery of elements in a short time and you can save time and money, thus solving this type of inconvenience in a simple and easy way. Therefore, here we explain how to use EaseUS:
The first thing will be to select the location of the disk where the data has been lost and then click on subsequentlyScannear.
The program will start performing a quick scan, once it finishes, a deep scan will begin to try to find more files. In case the quick scan has appeared the file you are looking for, you can stop the following to save time .
Now select the files you wish to rescue and click on recoveredRecover.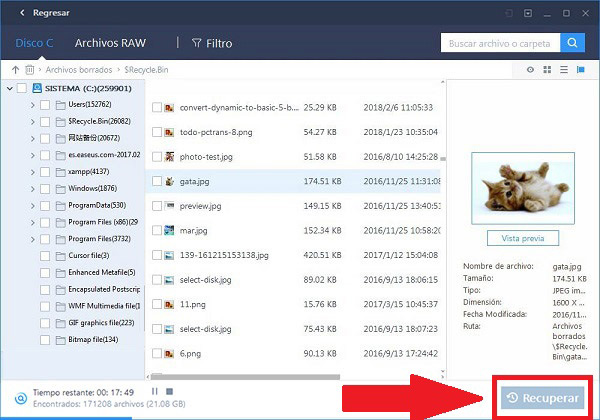 Report hacked account
If you are completely sure that the email is not in the Trash folder , or in any other and there is no longer any way to be able to reset it , then you will not There is more option than to report your email as hacked , where you will have to claim that someone has entered for you and deleted them .
Generally, Yahoo Mail has an option to restore all important messages . However, to be able to execute this procedure, said element cannot have more than 7 days of being deleted , otherwise, there will be no other way to save it.
Finally, it is important to mention that this option does not allow you to specify which message you need, but you simply have to answer a questionnaire and create the request to save all those items left in your tray.
List of the best programs sent or received been deleted in Yahoo Mail
As we mentioned earlier, there are some recovery software that have been specifically designed to help restore any type of file and data in an easy and fast way. They are characterized by being very simple programs to use that offer an excellent stay to each of its users.
That is why here we present the best applications to save those deleted emails in your Yahoo Mail:
Remo software
This program provides you with excellent tools that will help you restore all deleted messages from your Yahoo Mail account . Remo is available for the Windows operating system and has a paid version and a trial version for 30 days completely free.
Being able to save those deleted emails for a long time is extremely important for most users, especially when the element contains very important information. This software not only offers you the mail recovery, but also folders, contacts, calendars, notes, accessories, among others.
Download Remo Software Windows
Download Remo Software Mac
Email Recovery
Another of the applications that we will find available in the market, is Email Recovery, a tool that has a large number of functions that will allow you to obtain a high speed scan to find those files that have been deleted for some reason.
In the same way, you can download it completely for free and thus start enjoying each of its services. It is also available for Yahoo Mail and Outlook platforms.
Download Email Recovery Windows
Power Email Recovery
A very complete and interesting email recovery software that will help you achieve positive results in a very short time. It stands out for presenting a large number of features that help it position itself among one of the best programs in this area.
This is how it allows you to restore messages from email at high speed, allows you to scan the hard drive partitions and does not cause damage during the scan, being completely safe and reliable .
This whole process is extremely simple, it can be carried out by novice users on the subject . So it does not require much experience since it has a very basic and simple interface to handle.
Download Power Email Recovery Windows