With the remarkable development of new technologies, the Internet has managed to change many practices around the world and this is joined by the ways in which people now interact . Whether between family, between friends and even how to find a partner.
While it is true, today there are many applications that allow you to connect with your friends but, beyond that, there are several of them that manage to simplify the connections between people from different parts of the world >, either to establish a beautiful friendship or even to link and find love.
Taking into account that, for anyone it is a secret that the tactics to flirt with someone have been transformed. You can no longer do it only in a bar or party, but also, you can meet a person who even speaks a language other than yours and from the comfort of your home .
List of the best applications to meet people, chat or chat you want for Android and iPhone
As we already mentioned, there are a variety of alternatives that allow you to meet other users from different places worldwide. With which, you can easily communicate, chat from anywhere and even flirt to get your new partner.
That is why, then we indicate a total of 25 apps compatible with Android and iPhone , which you can download to start having new friends and more possibilities to find love:
Tinder
To start, we recommend using this free application that you can easily find in the Google Play Store and the App Store. Which, has positioned itself as one of the main social platforms for chatting and linking with users from all over the world . Since, he has managed to find more than 10 billion matches, that is, he has been able to unite 5 billion couples or good friends.
In this sense, it is a very effective application for this purpose. In addition to this, it presents a fun and easy operation, since while you do the search, you must slide to see the profiles that perhaps could be your perfect match. Therefore, if you indicate that user you like and the other person accepts the same, automatically both will be a match within the Tinder platform . Since then, you can start a chat with the other person and get to know each other better.
OkCupid Dating
Another favorite application to flirt from your Android phone or iPhone is OkCupid Dating . Since, it has millions of users around the world and thanks to it, it allows you to find a great variety between women and men from different countries and / or cities. It also refers to a free service that does not present much limitation, only that it can be downloaded by users over 17 years of age. In addition to this, it allows you to maintain your privacy by selecting any username you want.
Now, around the operation of this platform, it is based on an algorithm that allows everyone to find their better half in a very short time . Which means that, it is estimated as one of the fastest solutions, par excellence, to get a partner online. In addition to this, it allows you to see photos of other people and some details in reference to their tastes and preferences, as well as send and receive unlimited messages and search through filters that adapt to your preferences.
Badoo
With more than 400 million people already using it worldwide, this platform is estimated as one of the largest and most effective social networks to connect with other people residing in any country of the world. However, if you want to find your ideal partner near you, the app gives you the option to see who is near you and thus, decide if you want to contact these people to perhaps establish a friendship or even a good relationship.
In addition to this, Badoo exhibits the ability for each user to see and contact the people with whom he crosses daily , either when he goes back home, when he goes to college, to work or even when he is in a bar or a party. Among other details, this app available in Google Play Store and the App Store , is a solution that guarantees total security and has a very intuitive interface , with a very striking design and It is simple to use by people of any age.
Meetic
Also available for Android and iOS, this is a widely used and recommended application for all singles in Spain and even throughout the European continent, as in some Latin American countries. Which invites you to register for free , create a profile and start chatting or flirting with anyone you like. Taking into account that, it allows you to use some filters to find the ideal partner , whether by age range, hair or eye color, profession, tastes in common, among other available criteria.
Now, regarding the operation of Meetic , it is based on meeting new people from the different events organized by the same application , which They are completely fun. You can also see the profile of all the users that interest you from wherever you are, organize your next appointments with compatible users, make use of its effective functions such as random navigation and geolocation .
Lovoo
Among other applications ideal for chatting and linking with people from anywhere in the world, is Lovoo that contains around 35 million matches and supports , monthly, up to more than 250 million messages. In Lovoo , you can find new friends, chat within a completely attractive and intuitive platform and also share photos to get to know yourself .
Similarly, you can observe other users through the photos they publish on the social platform. It even has a live video feature , to get closer to other people in real time. For its part, this app available for Android and iOS, allows you to watch live videos of people who are near your area, as well as the most popular videos. It has a function that allows others to be rewarded , this, by giving diamonds to those who record videos, so that they can support them.
Grindr
If what you want is to use an application that allows you to find gay or bisexual people, Grindr is the best that exists for it . Since, from the first moment, it was a platform designed for people with these preferences, not to waste a great time trying to find a user with the same expectations, in other social networks or dating apps. Best of all, in addition to being a free app, it allows you to chat and meet very handsome, attractive and interesting guys .
For its part, in terms of its main characteristics, we emphasize that Grindr provides you with an easy visualization of up to 600 children within a grid based on the location, where you can get a match near you. In addition, the social platform allows you to share private photos, explore in different profiles, customize your profile so that they can know you better and filter your search to, by means of this, find only your ideal partner. It has a subscription version that has more exclusive features and is known as " Grindr XTRA ".
Shakn
Available for Android and iOS devices, this free app is another of the most recognized for linking with people from other places in the world. Thus, a completely secure alternative because it guarantees that you will always find real profiles, since the same app is responsible for suppressing fake accounts and trolls operating on the network . Apart from that, saves you time during the search process, since you can optimize it thanks to the filtering it contains.
It also allows you to get people located in the same area where you reside, but to maintain security, never reveals the exact location of any of the users . However, beyond being an interesting application for chatting and meeting people, it is also perfect to express yourself using your favorite music, posting photos whenever you want, communicating through voice memos and many other things, that connect you more easily with users who are interested in you .
Sapio
This is one of the smartest applications to meet new people, since beyond the physical aspects, also is based on the intellectual characteristics of users and with that, you can find something that Be above the surface. Therefore, if you want to find true love and learn more about the feelings of the person with whom you are conversing virtually, Sapio is an ideal platform . That way, it gives you excellent tools to get a person who manages to stimulate your mind and accelerate your heart .
In short, Sapio lets you know how the other person thinks and behaves at deeper levels and with it, be able to estimate the compatibility that exists between them. Thus, it is very likely that both users reach a very deep connection point and thus establish a stable relationship, regardless of distance.
MiuMeet
Refers to an application that has a database with millions of active users who can know each other, chat, socialize and even link to find a partner anywhere in the world. In this way, it is considered a social platform suitable for both boys and girls, heterosexuals and homosexuals, who want to meet new people and find a great variety.
It is also a completely free platform , without app purchases and based on location-based compatibility , based on your mobile's GPS connection. For more details, we highlight that MiuMeet allows you to send text messages, images and emoticons , as well as filter your tastes to find your perfect soul mate, whether by age, places, interests or labels. Additionally, it facilitates the daily love horoscope for your zodiac sign and has a fun calculation of love that is based on astrology. If you want to publish photos, you can do it by importing them from the social network Facebook .
eHarmony
Although it is compatible with Android and iPhone devices, it is an app more used by Android users than iOS users . Which offers a free version and a subscription version that, logically, provides more advanced features. But well, as for its free version, we highlight that it has excellent features, emphasizing that guarantees a great variety by having more than one million registered and active users.
Once you download the application on your mobile and register, you can start the search for your better half, by browsing through the different profiles of the users that the platform shows you. Which, does from what you indicated at the beginning when filling out the questionnaire based on the type of relationship you are looking for . This means that, you can always get the best matches based on your preferences. Added to this, it is a very intuitive app, it allows you to upload photos from the gallery or through Facebook , you can send quick questions to other people to start a conversation, receive notifications when someone is interested in you , etc.
Between – Private Couples App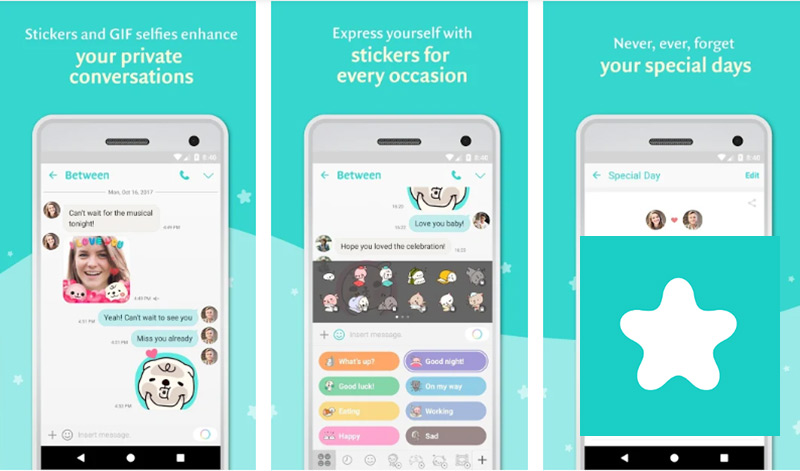 Although it is not an application to meet new people, it is within this category and is based on a perfect platform to make couples fall in love even more , by communicating with much more love and be able to store your best memories with complete ease. This means that it is an ideal tool for conversations to arise with more love, where you can use completely free emoticons to be more romantic .
For its part, it allows you to save the best photos, videos and notes with your partner in a very simple way. So, if you change your phone, you can still keep them in the account of this app. It also allows you to keep the schedules and special days saved in one place, since the app calculates the countdown automatically so that you do not forget any special moment with the love of your life.
Bumble
It is an application dedicated to facilitate the search for new friends and appointments, since with more than 21 million users , it allows everyone to establish truly valuable relationships, get friends and even make contacts in around business issues, so it is considered one of the most useful applications of this type in the entire list.
In addition, it is valuable to highlight that the app stands out for implementing a very complete blocking and reporting system , to ensure greater security for its users. It also works to support a platform where respect, good manners and tolerance among users predominate.
In addition to this, Bumble is a very interesting app because it allows women to take the first step , that is, it has changed the rules of the game. Given that, it is they who decide with whom to establish a communication by having 24 hours to take the first step and in the same way, the man also has 24 hours to respond. Once this time is over, they no longer have the possibility to begin to know each other. As for same-sex relationships, they also have 24 hours to take the first step and to accept or reject.
Ashley Madison
It refers to an application that allows Android and iPhone users to link with other native people of any country, in a very discreet way . Therefore, it is considered as one of the safest apps to meet people online, being also an effective and fast app to find the type of relationship you are looking for very easily. Even this system has implemented excellent options for people who have a partner, can look for an adventure , but the app is not responsible for their discovery. For this reason, it has a different concept and it is that has positioned it as one of the most interesting of the moment .
Among other features, Ashley Madison has a very attractive design that all users like, as well as being easy to use and allows to create a completely free account . Also, all users can use the search filters in their own way and this allows them to obtain better matches in terms of age and other parameters.
Feeld Quotations
This is another of the best solutions that exist today to meet new people and flirt. Taking into account that, in addition to being free, Feeld Appointments can be obtained both in Google Play Store and also in the App Store . In this way, it gives you the ease of meeting incredible people who reside in your city, by using the GPS of your smartphone and thus finding the people active on the platform who are looking for a relationship.
It also has excellent features to simplify your search , since it is considered a special application because it allows all users to add their wishes and interests , so specify if they are single or in a relationship and if they want to get a partner or find another person who is single to live an adventure.
In short, it allows you to chat in real time and establish easy communication with other users so that they can even make an appointment and get to know each other better in person. It is valuable to note that it is not necessary to have an account with your real name, to maintain your privacy, but the app if it asks you to use your Facebook account to register .
Desire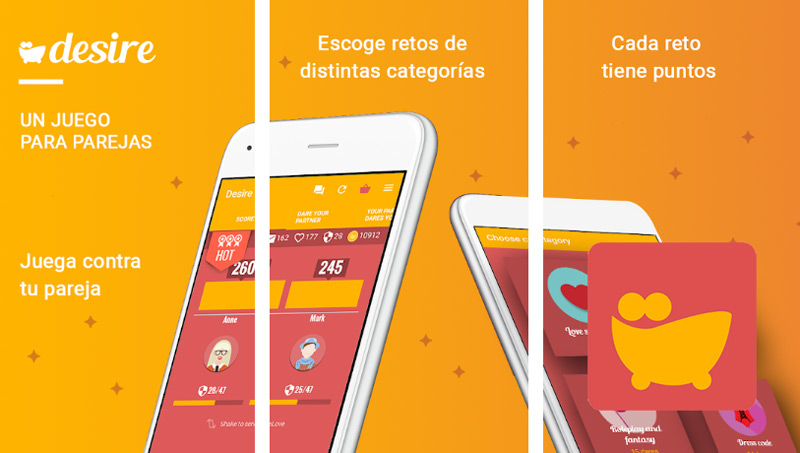 Refers to an app created and designed to implement couple games and thereby increase the taste and passion between them. This means that, it is not a social platform that allows you to link and meet new people, because it is simply an excellent application for couples to join more and spend pleasant moments by the hand of this app, where will surely raise the body temperature between both .
That way, Desire gives you the ease of challenging your partner , regardless of whether you are male or female and with this, perform any challenge available among the wide variety you find. In effect, you can get various categories such as: fantasy, kamasutra, roles, feelings of love and many more . However, if you want to go beyond that, you can create your own challenges within the application and even unlock new ones from a scoring system that starts since you register with Desire.
I Just Made Love
If you choose to translate the name of this application, you will see what it means " where you made love " and with that, you can basically intuit that it is an unusual social platform, in where users can share everything with respect to the last place where they have made love or have had sex. It even allows to add photos and the details you want .