If we go to the past, we can remember the madness that the first mp3 devices generated, because with these there was no longer the need to have large collections of CDs that could be scratched or milled to Listen to our favorite music . With these devices we could store it all in our computer and then easily transfer them to these tiny equipment so that we could entertain ourselves for hours and put rhythm into our routine.
Because its use has become very common, the mp3 format can be easily downloaded and played on many programs and computers. In addition, it has a variety of audio qualities, which makes it possible to save many songs with little space compared to heavier ones. It was developed by Karlheinz Brandenburg together with Thomson Multimedia . It was certainly something that came to stay. Currently, downloading mp3 formats is even more diverse, being able to get files with high definition, even for free.
If you still don't know what kind of applications to use, here we will give you some that you might like and try. We recommend experimenting with each one of these to see which one could fit your style. It is not only enough to study its function but to see how it works and what formats are offered by each one.
An MP3 file can also contain information about the artist's name, a graphic (usually the cover of the CD), the lyrics of the song, the genre and other additional information.
Here are the programs we consider good for you:
eMule
This program is used to exchange files with the P2P (Peer to peer) system, uses an improved version of the " eDonkey " protocol created by Merkur. It is an open source software, which allows you to download and share files with other users connected to the network. Although Emule is a slightly "old" tool, it is still a good alternative, in fact if you are looking for out-of-fashion music it is perfect.
Ares
It is also a free P2P program (similar to eMule), with the difference that the programming language used is Delphi, especially for the Microsoft Windows operating system. Ares you can not only find mp3 audio files but also video. Best of all, it has its own player, which will help you check what you've downloaded.
MP3 Rocket
This rocket allows users to download music and videos from YouTube , using their links. So in this quality depends on the original source of the video. It is a P2P tool compatible with the Gnutella and BitTorrent network .
aTube Catcher
Similar to mp3 Rocket, aTube Catcher is a freeware tool allows you to download videos from YouTube or similar like Vimeo, being able to share them and edit them without internet connection. It has the ability to export files to different formats such as: MPG, AVI, MP4, 3GP, 3G2, WMV, PSP, MOV and FLV .
Soulseek
This program serves as a file-sharing network, primarily for audio and video, but also for other kinds of files. Something you would like to know is that everything that is stored on this platform is free of copyrights, so with it you will not have problems sharing it.
IMusic
This is a program where you can discover songs and then download, transfer or edit them. If you wish, you have the option of downloading entire playlists. With this you should not worry about not getting those songs you want, since there are thousands of artists on your platform to choose from. In addition to the " Download " button, you have the " Record " button, which will make it easier for you to get the music you don't know.
Freemake YouTube to MP3
With this application you can download music directly from YouTube. The best of all is that if you need only the audio you can download it without having to do it with the video too. If you want the complete album of your favorite artist you can search it without problems , because it allows batch download. You just need to place your artist's name or lyrics and you can easily do it, even if it has an option to listen to it beforehand.
MP3Jam
It is a software that allows downloading songs in one click. In it you can search by genre, artist, group or album. The program supports downloading MP3 music at a maximum speed of 320 Kbps, thanks to its own technology.
Spotify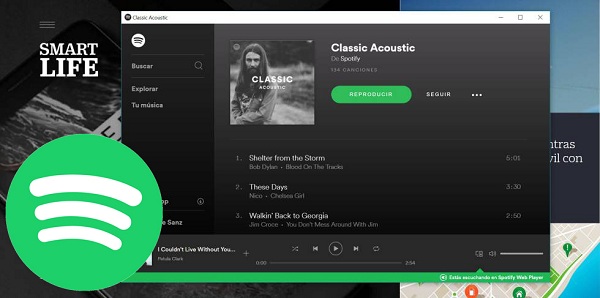 This player works both as a program to be installed on the PC, as an app to download on portable devices such as tablets and mobile devices. Although if you prefer you can use it from the web without installing it. You can use the free version that includes advertising guidelines between songs, or you can buy the version of Spotify Premium , which allows you to enjoy your music without commercial breaks. This cross platform is used for streaming music playback.
iTunes
It is the Apple program that exploited the popularity of mp3 as the software chosen for its audio devices " iPod ". It has an extensive library of mp3 music, as well as movies and pay series. There are also radio stations and podcasts that you can listen to for free. The program is compatible with MacOS and computers with Windows operating systems.
Amazon Music
It is the main competitor of iTunes with its download platform. In the beginning this started with digital books and mp3, now offers its video and streaming download service. Amazon has a free and paid mp3 library that will allow you to download the files you want . The disadvantage is that in order to reproduce them you will need an additional player.
Jdownloader
This is a download manager par excellence with which you can download your favorite melodies. To do so you just have to copy the link of the page where the track is located, for example Youtube, and paste it into the program's link grabber. With this you can download not only MP3 but also videos, compressed files and documents for free, so Jdownloader is the solution to your problem.
Free Music Downloader MP3
A program that has nothing to envy others on this list. With it you can download an immense amount of songs since has one of the largest databases on the internet due to the several years this program has been on the market. Its operation is very simple , although the publicity they use to keep your project afloat may bother you a bit
iMesh
A very complete app that guarantees thousands of hours of music content in it. It has one of the largest databases with more than 16 million themes of all existing genres, so it is difficult for you not to find in it the song you are looking for.
In addition to all this, also allows you to play everything you want via streaming , as well as share your favorite titles and create custom playlists to listen to with your player. Its download system works with P2P technology, so the download speed is excellent thanks to its powerful servers. It's free and has a bit of publicity, but it's not invasive .
Blubster
This is a client of P2P downloads , but exclusively for music content. Its database is as wide as its user community, which currently exceeds 5 million assets . Like any P2P client, it allows users to share their own songs so that the rest of the community can download them without problem.
Its network of nodes is excellent since each theme has dozens of seeders, which guarantees that the download will not be wrong . Its servers are extremely fast, allowing you to download any topic in seconds or minutes depending on its weight. Like the previous one, it also allows you to create your personalized playlists and listen to the tracks via streaming without having to download them.
Songr
This is a very simple but effective program. It does not have such interactive functions as the previous two, but it certainly has everything you need to find the music you want. To start, has an ingenious search algorithm that allows you to find a song by its title, its artist, or a fragment of its lyrics. Its programming is based on a simple website, which works as a search engine; you put a keyword or phrase and it shows you the results of that search .
Music and Video Downloader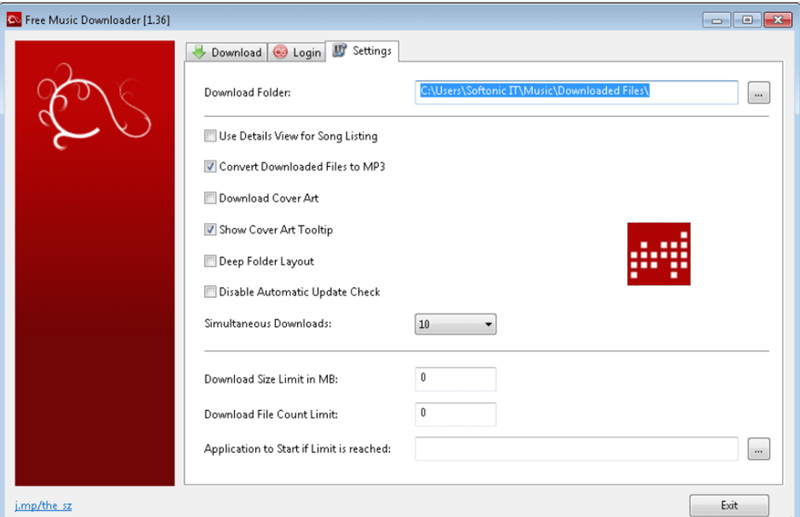 This is not really a program, but an executable .exe file that allows you to download content from SoundCloud, Spotify, iTunes, Grooveshark and similar databases . In a nutshell it is a converter of streaming files to MP3. It has some publicity, but it makes up for it with its security since when converting from the platform servers, you make sure that the resulting file will not have a virus. It is simple, but very effective in its main work .
FLVTO.Biz
This is an online platform that allows you to download MP3 or MP4 videos from YouTube or songs from Soundcloud and similar platforms . You just have to have the direct link to the topic and this will proceed to download the content. It is safe since its files do not contain viruses, although you will have to support some advertising in the form of tabs and pop-up windows (Popups).
Savefrom.net
Another interesting website that allows you to convert files directly from the YouTube platform in either MP3 or MP4 format . This has its disadvantages since what you are actually downloading is the audio of the video, so if the video clip of a theme has an intro with voices, this will be reflected in the final file, which will force you to edit it to the post . It has some advertising, but it's not invasive at all, and you'll get clean virus-free content .
FrostWire
After the disappearance of LimeWire , this page was positioned as the perfect alternative to this. In addition, not only did he occupy part of his name, but he improved it much more. This is an open source program developed if for profit in which you can download information via P2P. Although in it you can find images, videos and others, it is the music that has more demand among its users .
It has a very large database, with millions of files of all formats. Among them you can find albums and singles of the most important artists of each genre in its history, as well as the most current themes of the main stars of the moment. Using it is as simple as writing the title, artist or album of the song you want to download and selecting the one indicated in the results shown by the program .